NOTICE: Attendance Punch-in and Punch-out on Attendance Terminal
June 5, 2023
2023-06-05 19:28
NOTICE: Attendance Punch-in and Punch-out on Attendance Terminal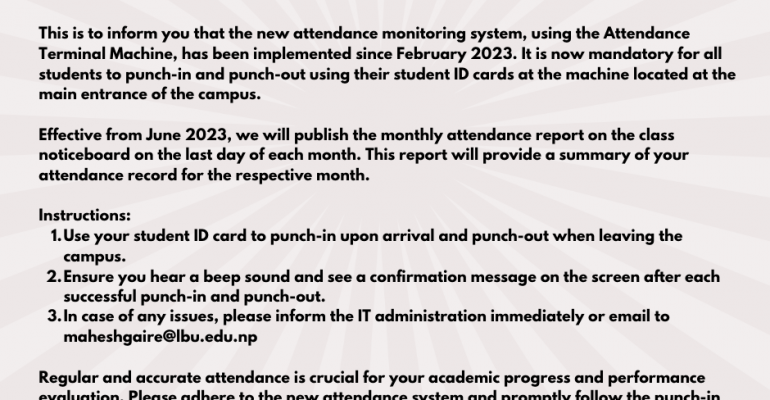 NOTICE: Attendance Punch-in and Punch-out on Attendance Terminal
This is to inform you that the new attendance monitoring system, using the Attendance Terminal Machine, has been implemented since February 2023. It is now mandatory for all students to punch-in and punch-out using their student ID cards at the machine located at the main entrance of the campus.
Effective from June 2023, we will publish the monthly attendance report on the class noticeboard on the last day of each month. This report will provide a summary of your attendance record for the respective month.
Instructions:
Use your student ID card to punch-in upon arrival and punch-out when leaving the campus.
Ensure you hear a beep sound and see a confirmation message on the screen after each successful punch-in and punch-out.
In case of any issues, please inform the campus administration office immediately.
Regular and accurate attendance is crucial for your academic progress and performance evaluation. Please adhere to the new attendance system and promptly follow the punch-in and punch-out process.